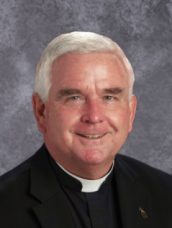 Dear Brothers and Sisters,

Serra Club Servers Award

Today (Sunday) thirteen of our altar servers will receive the Serra Club Servers Award from Bishop Iffert at the Cathedral. The Serra Club Award acknowledges the valuable contribution these young people make to the Church's worship at the altar and liturgical services, which in turn, contributes to the young persons' growth in faith. These servers will wear a blue Serra Club band with a crucifix when they serve.

The Serra Club (named after missionary priest Junipero Serra) is a Catholic lay organization that encourages the Catholic life of its members and promotes vocations to priesthood and religious life.

Personally, I am extremely grateful for the dedicated service of our altar servers. My hope is they will continue to
serve at the altar of Christ as they go through high school. I am also grateful to Mr. David Wegert our coordinator of altar
servers.

Recipients of the Serra Club Servers Award are:

Lilly Carr, Nicholas Cozzi, Everett Dawson, Addyson Gearding, Jack Gearding, Melissa Geiman, Matthew Goering, Grant Kevill, Alanna Kues, Emma Orth, Kyle Piscitello, Payton Reckers and Rachel Shewmaker

Gathering as Community

It is really great to get back to community gatherings again. Two Sundays ago people really enjoyed getting together for Fellowship Sunday with coffee and doughnuts, etc. after Sunday morning Masses. We have two wonderful opportunities to share a community meal together in the next couple of weeks.

Catholic Order of Foresters Pancake breakfast – Sunday, April 10 – from 8:00 to 11:30 am in Memorial Hall.
There is more information in this bulletin.

Seder Meal – Holy Thursday – April 14 – 6:00pm in Memorial Hall The Passover Seder meal is a festive remembrance celebrated by our Jewish cousins to commemorate the exodus from slavery in Egypt to the freedom of covenant life and God's providence. The Passover is the meal Jesus celebrated with his disciples at what we call the "Last Supper" when he established the New Covenant of Eucharistic life for us. The Holy Thursday Mass of the Lord's Super will follow the Seder Meal.

Please RSVP to parish office at 859 444 1604 or RCalhoun@stjoeparish.net

Your pastor and brother in Christ,

Monsignor Gerald L. Reinersman