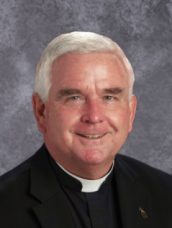 Dear brothers and sisters,

This past March Mrs. Susan Greis decided to retire as principal of St. Joseph School. I am at a loss for words in trying to describe the wonderful leadership she has provided our school; a central part of the St. Joseph Parish mission. But that won't keep me from trying to describe her contribution.

Sue maintained a strong emphasis on Catholic identity, always mindful of the school's mission:
to embrace the gospel message of Jesus Christ
to be and do their best
to be lifelong learners
to live their Catholic faith.

Sue Greis recognized that a good Catholic school is the result of faith centered, respectful relationships between parents – children – teachers – administrators – pastor – parish at large – the Diocese. Catholic education for Sue Greis is all about helping students grow in faith, knowledge, skills, self-esteem and respect for others. Another quality of Sue's leadership is the ability to identify and develop leadership among her staff.

Our parish school will benefit from that quality when our current assistant principal, Mrs. Emily Urlage, becomes principal on July 1, 2022. Emily Urlage has earned the confidence and respect of her fellow teachers as well as her supervisors. She has proven to be an excellent educational leader and a skilled administrator. Emily Urlage has been an educator for twenty three years including this year as our assistant principal. Importantly, Mrs. Ulage has a passion for the Catholic faith and Catholic education. Her time at St. Joseph has intensified her appreciation for the unique contribution Catholic education makes toward the overall development of each student.

Mrs. Krista Schoulties will take Mrs. Urlage's place as assistant principal. Mrs. Schoulties has been an excellent teacher at St. Joseph School for twenty six years.

At the end of a school year, we should appreciate the tremendous contribution our school principal, teachers and staff make toward our parish mission to help parents form their children in the Catholic faith. Along with your prayers of gratitude, be sure to express your gratitude to those who dedicate themselves to such an important part of our parish mission and life.

Your pastor and brother in Christ,

Monsignor Gerald L. Reinersman