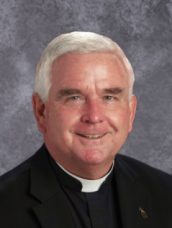 Dear brothers and sisters,

Today is Pentecost Sunday, the birthday of the Church.

The Gospel of John tells that the disciples locked themselves away out of fear. Yet Jesus stands in their midst and proclaims "Peace be with you". In the very hours that we may be fearful of what the gospel of Jesus Christ asks of us, he stands in our midst to give peace.

John says, the Lord "breathed on them and said 'Receive the Holy Spirit. Whose sins you forgive are forgiven them and whose sins you retain are retained.'" Just as God breathed life into Adam, Jesus breathes life into the Church gathered in the upper room. The Holy Spirit gives the Church power over sin sacramentally and in our personal lives as disciples. Christ does not abandon the world but remains in the world through the Gift of the Holy Spirit active in the Church.

His own divine life is breathed into the Church making us his Mystical Body. This means we don't sit back with a "let someone else to it" attitude, but share in the life of the Mystical Body of Christ in our … charity … stepping forward in family reconciliation … discerning a vocation as a priest, nun or deacon, etc. etc. etc. Rather the courage of the Holy Spirit inspires the prayer "Come Holy Spirit, fill MY HEART with the power of your love."

At Pentecost we participate in the life of the Holy Spirit by the gifts of the Holy Spirit to
KNOW the Lord by Wisdom and Knowledge and Understanding
LOVE the Lord by Piety and Fear of the Lord
SERVE the Lord by Fortitude and Counsel

Pentecost is celebrated 50 days after Easter, but it is not simply the end of an Easter season. It is the GOAL of Easter and the beginning of the Church.

HAPPY BIRTHDAY CHURCH!!

Your pastor and brother in Christ,

Monsignor Gerald L. Reinersman