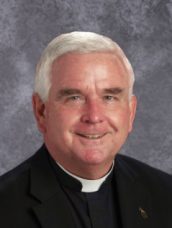 Dear brothers and sisters,

Fr. Sam Owusu has served our parish as parochial vicar for more than two years. His love of God and zeal for sharing the faith is obvious. We are grateful for the gift of his priestly ministry, which he shared so generously at St. Joseph Parish.

There will be an opportunity for parishioners to express our gratitude and farewell to Fr. Sam on Sunday, June 26, at fellowship following the Sunday morning Masses. We'll have the usual coffee, juice, milk, doughnuts and bagels. It will also be a time for parishioners to drop off notes or cards to express their good wishes as he prepares to go to St. Timothy Parish in Union.

If you cannot be at the fellowship on June 26, you can send a note or card to Fr. Sam at the rectory, 4011 Alexandria Pike, Cold Spring, 41076.

Your pastor and brother in Christ,

Monsignor Gerald L. Reinersman