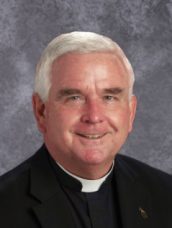 Dear brothers and sisters,

Today, the Solemnity of the Holy Body and Blood of Christ, the US Conference of Catholic Bishops are launching a three-year "NATIONAL EUCHARISTIC REVIVAL". The mission of this revival is to "renew the Church by enkindling a living relationship with the Lord Jesus Christ in the Holy Eucharist". The vision of the revival is to be a "movement of Catholics across the United States, healed, converted, formed, and unified by an encounter with Jesus in the Eucharist—and sent out in mission 'for the life of the world.'"

Here, at St. Joseph, we have a good schedule and practice of Eucharistic Devotions.
• Primarily our Sunday and weekday Mass schedule
• Eucharistic Adoration on Wednesday, 9:30 to 6:30 in the Holy Family Center chapel and on first Fridays for our school students
• Annual Eucharistic Devotions (40 Hours), this year on November 18 – 20 and Solemn Closing and Benediction.
• Our Evangelization initiative "COME and RECEIVE" has been emphasizing Eucharistic faith and life in weekly emails and found on our parish website St. Joseph Parish/Come and Receive.
• Our worship at the Eucharistic sacrifice of the Mass is the heart of our unity in Christ Jesus. The Holy Eucharist is the source and summit of our life in Christ.
• My personal hope is that the Eucharistic Revival will inspire Catholics (especially at St. Joseph Parish) to intensify our Eucharistic faith, devotion and life.

Your pastor and brother in Christ,

Monsignor Gerald L. Reinersman