Last year at St. Joseph Parish an evangelization outreach called COME & RECEIVE was introduced. Videos were produced featuring parishioners' personal witnesses to their Catholic faith. This year that effort is being expanded, and is now called "COME RECEIVE SHARE INVITE". The goal is to assist you in your mission to invite people into a relationship with Christ through active participation in the Mass, the Sacraments and the life of the Church.
---
Welcome to our new outreach!
---
"Go therefore and make disciples of all nations, baptizing them in the name of the Father and of the Son, and of the Holy Spirit, teaching them to observe all that I have commanded you. And behold, I am with you always, until the end of the age."
---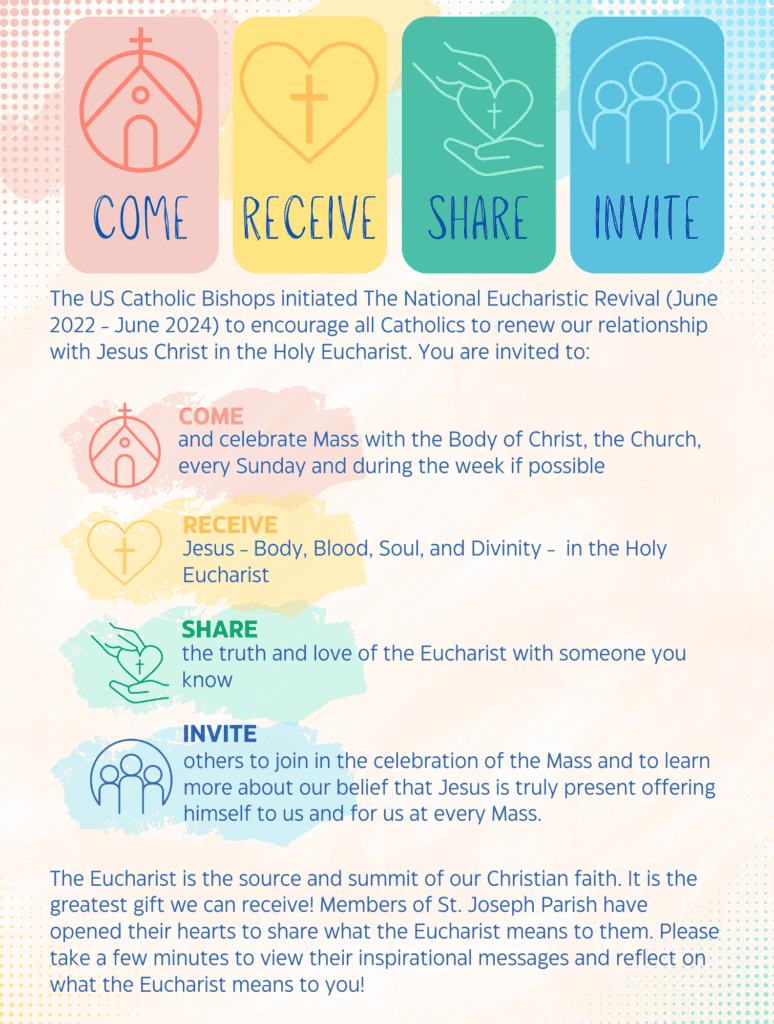 ---
Enjoy reading the latest letter from Come Receive Share Invite (CRSI), we hope you find it inspiring and a useful tool to help you and others on their spiritual journeys.
---
Come Receive Share Invite Documents
Please click the article(s) below to view the previously published documents:
---
Come & Receive
Click the button to view all of the archived Come & Receive documents along with the videos and handouts for each published letters.
---

As we begin this new phase of outreach, we welcome your feedback and suggestions. Please email us at stjoemedia@stjoeparish.net with your comments.