Building Lessons for a Lifetime
St. Joseph School has a well-balanced curriculum based on religion and academics. Our goal is to provide a curriculum through which knowledge, skills, and attitudes needed for life-long education (formal and informal) can be acquired. We challenge students to develop their full potential with an open, inquiring mind.
In 2014 St. Joseph School began a 1:1 Chromebook program with seventh and eighth-grade students. Each seventh and eighth-grade student has a Chromebook to use at school and at home to increase student engagement and productivity.
We have two computer labs (59 stations). One of our labs was just updated in 2012 with 30 state-of-the-art PCs. Classrooms are equipped with document cameras. Mounted Smart Boards and projectors or BrightLink Interactive Systems are also in the classrooms. We have a NEO 2 lab, Smart Response clickers, and airliners that can be checked out for classroom use.
The core curriculum is enriched through a variety of programs. All participate in Spanish instruction, art, computer, library, music, physical education, musical performances, and field trips. The library is filled with over 9,500 volumes and is completely computerized. Additional opportunities include Accelerated Reader, academic competitions, science fair, Great Leaps, and Response to Intervention.
St. Joseph School is committed to academic excellence. Our test scores are one way to assess whether we are preparing students for future success. The following is an explanation of our test scores.
ACRE
The ACRE (Assessment of Catechesis/Religious Education) is used to assist in the evaluation of the religious education program. Students in grades five and eight take the ACRE. The ACRE is divided into four major sections, often referred to as the Pillars: Part I: Profession of Faith, Part II: The Celebration of the Christian Mystery, Part III: Life in Christ, and Part IV: Christian Prayer.
2014 ACRE Test Results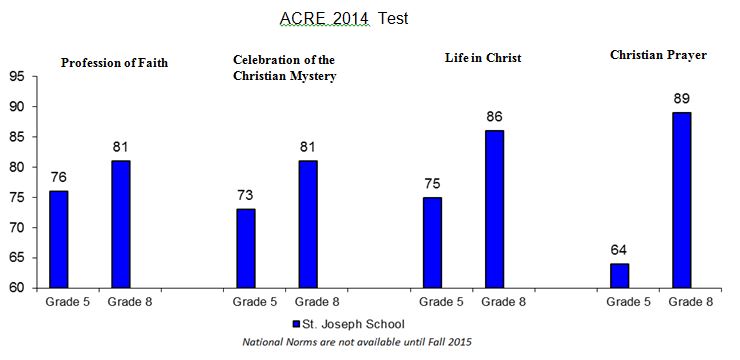 ITBS Achievement Test
The Iowa Test of Basic Skills is administered in the Catholic Schools in the Diocese of Covington. The Diocese mandates testing in grades 3, 5, 6 and 7. St. Joseph School tests students in grades 1 through 7.
The scores reflect a National Percentile Rank. It is determined by comparing how well our students performed with other children across the nation who took the same test. For example, if a student scored in the 74th percentile, this would mean he or she scored better than 74 percent of the students who took the same test. "Average" score would be the 50th percentile.